Forget moving house or planning a wedding – preparing to travel long-term has to be one of the most stressful, complicated (but exciting!) experiences ever. There's so much travel planning to do – from booking flights, researching countries, visas and plotting routes to getting rid of your possessions, sorting out travel gear, finances and making time to visit family and friends – the list seems endless.
Travel Planning Articles
If you're struggling to know where to start, here's how we prepared for our big travel adventure.
Travel Finances
How To Get Around
Travel Gear & Gadgets
Travel Health
Reflections
General Travel Planning
Travel tools we use
Here are some of the tools, products and apps we use in our day-to-day travels and when we're travel planning. There are some affiliate links within this list, which means if you click through and buy a product we've mentioned, we may receive a small commission at no extra cost to you. However, these are all products we personally use and would recommend. Any income we make goes towards the running costs of our site; thank you for supporting our adventure!
Travel Apps
Convert Units and Currency HD – this is a free app we use all the time for converting currencies.
Trail Wallet – we used this app for years to track our spending as we travelled. We don't use it now because we currently have a Windows Phone, but we used it every day when we travelled with an iPhone.
Travel Sites
Airbnb – we find it's always cheaper to book accommodation through Airbnb in more expensive destinations like the USA, New Zealand and Europe. We've booked entire apartments before and scored great discounts for staying in places for a month at a time. Many hosts have been keen to share their local knowledge and even a meal with us. If you've never used Airbnb before, you can get £20 free credit if you sign up using this link.
Loveholidays.com – if you're looking for package holidays, this company have some great deals all over the world, from Europe to the Caribbean. They also offer flexible payment options and all-inclusive breaks, which we find can be a really cost-efficient way to travel, especially if we're meeting up with friends and family for a holiday.
Booking.com, Agoda and Hotels.com – we use these hotel booking sites to search for hotels, compare reviews and book stays, mainly in Asia. We generally search all three to find the cheapest prices, as they can vary from site to site.
Trusted Housesitters – we've had some amazing house and pet sitting experiences in London and Spain through this site. We love having a pet to look after and a temporary home; it saves us a lot of money on accommodation. House sitting can be competitive, especially when it comes to finding opportunities in London, but building up some good reviews helps.
Skyscanner – this is always the first site we check when we're searching for flights. The site allows you to search for prices over an entire month and you can even select 'everywhere' as the destination if your plans are flexible and you just want  the cheapest deal. Skyscanner doesn't include some budget airlines in its search, so we always double check those sites separately. Find out more about how we find the cheapest flights in this post.
Travel Books
Although the internet is great for travel planning, we often find it more convenient to go old school and use guide books. Here are a few of the Rough Guides and Insight Guides we're using at the moment:
If you're still keen on using technology, the Insight Guides include free ebooks too!
Our Essential Travel Gear
Thule backpacks – we now travel with Thule backpacks, which we love. Amy uses the Thule AllTrail 35L Women's pack, which has plenty of pockets and is perfect for taking on hikes. After struggling to find a pack that fits properly across the chest, the AllTrail has adjustable straps for a snug fit. We also have a 34L Thule Subterra Travel Backpack which has a great laptop sleeve. The bag also came with a handy packing cube and is the perfect size for a day bag or proper backpack.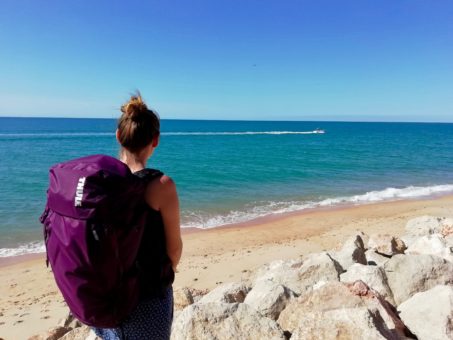 Panasonic Lumix DMC GF3 – we bought this camera before we left the UK in 2013 and it's still going strong. It's half-way between a point-and-shoot camera and a DSLR and we like the fact that it's small and light but still takes great photos and video.
Acer laptops – we've found Acers are perfect travel laptops because they're extremely durable. I've been using my 11 inch Acer since 2013 and it's been bumped all around the world with me. We bought a second Acer in Indonesia at the beginning of our travels but unfortunately the hard drive got fried by a dodgy power outlet in Asia so we now have a 15 inch replacement.
Kindles – even though I love real books, our Kindles are perfect for travelling. They're lightweight, can hold hundreds of books and their batteries last for ages.